Created in 2010, Brooklyn Brush Studios provide working space for artists and start-up entrepreneurs in Bushwick, Brooklyn.
It also promotes artists through exhibitions, classes, happenings, performance, screening and an outdoor gallery on their 203 Harrison location.
The place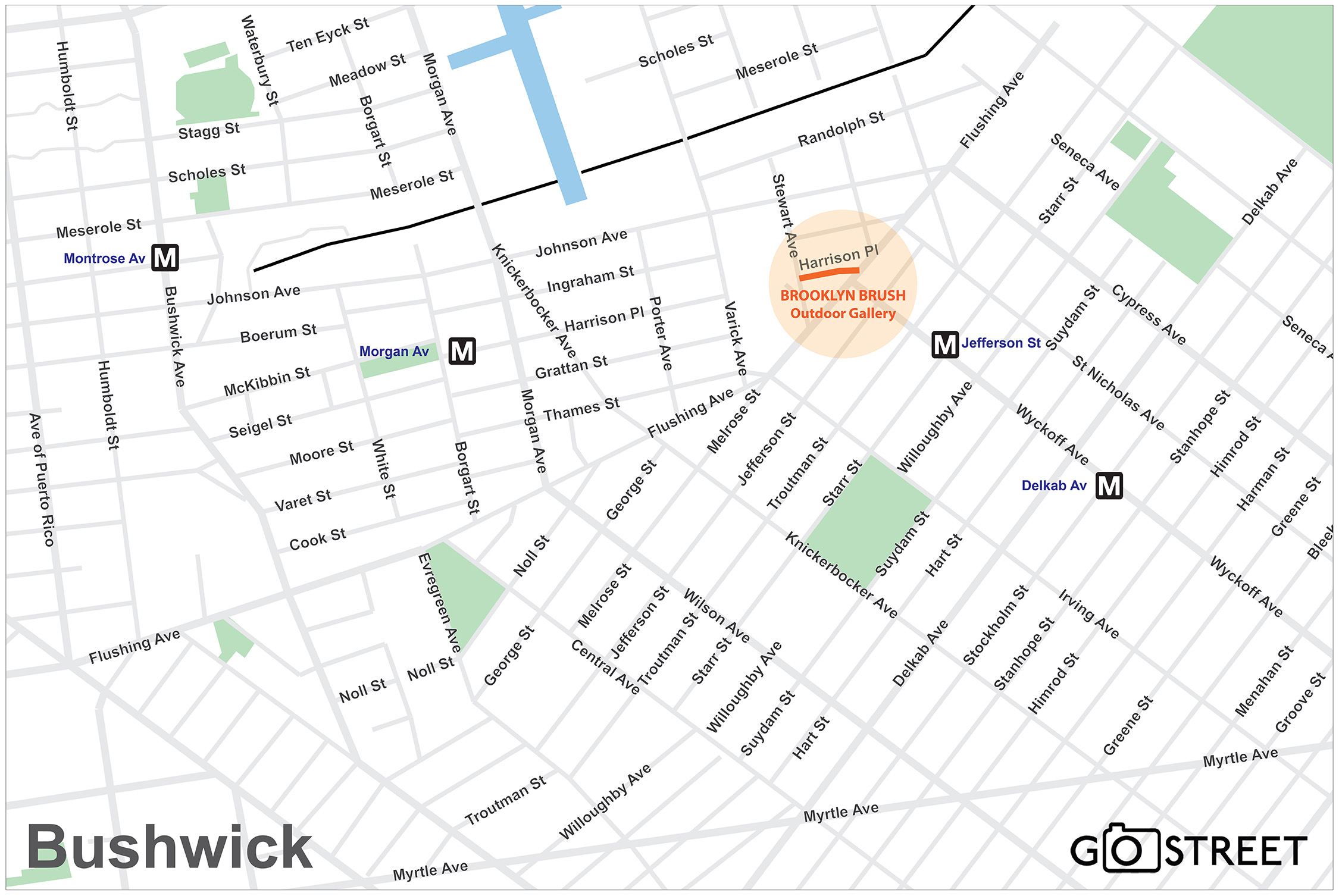 The outdoor gallery is located at the third Brooklyn Brush location opened in 2014 at 203 Harrison Pl, Brooklyn, NY 11237.
This gallery space is right in the street along the large walls of the building.
It provides a great exposure for the artists while creating a colorful and attractive outdoor space in Bushwick.

The Artwork
Here under are some of the artists featured on the outdoor gallery.
Note these photos were taken in March 2017. The exhibit changes regularly.
Espartaco Albornoz Abreu
Artwork: Dialogue with the Sun
"Through drawing and painting I create an imaginary writing that is complemented by a character who I call NOZCO. Outside of work, Nozco becomes a format to reflect and be part of what happens internally or outside of ourselves. Under this conviction, I release NOZCO from my studio to be out there and be part of the urban visual expression." Espartaco Albornoz Abreu
Sophia Chizuco
Artwork: Landscape 0916
"A person who lives on the street told me how he loved my work. He went back to his other friends and discussed about my work. He came back and told me this was a river. He suggested me to paint fish. I explained this was an abstract art and asked him to use his imagination. He said there were 3 fishes swimming and jumping. He also suggested for me to draw a big red bubble. I put a small one for our friendship. He appreciated my work and offered me a soda." Sophia Chizuco
Angelik
Artwork: "Alien Greeting" (Communication Serie)
Marissa Crider
Artwork: Altar and Interior
"As eyes are the window into the soul, living in New York, I have always seen window as a peek into the soul of the people living behind them. People take pride in what they choose to show in their windows, the objects and beliefs they hold dear. Walking around, looking into these nameless vignettes of personality has always made me feel both touched by intimacy and lonely." Marissa Crider
Richard Petrucci
Artwork: View from the sticks
All photos in this article were taken by Damien Derouene.
These photographs may not be reproduced, distributed, modified or re-posted to other websites without the express written permission of the author.