In cities around the world, chess players gather in public parks and squares to share their passion with other aficionados. Each locale draws a community of regulars, who know each other's game. But passersby are also invited to join. While visitors may be requested to hand over a few dollars in exchange for the game, the real draw on both sides is the challenge of a new opponent: matches are focused and intense.
To an observer, it appears all players know one another. Even if strangers in any other context, here, they are family. So much of the scene is internal, unspoken. The interactions are quiet and understated. In other words, rich grounds for photography.
But how can a photographer step into this scene without disrupting it? How can you capture the concentration without disrupting it? The intimacy without dispelling it?
In a word, by joining it. Here are tips to a get you started.

Settle into the scene
First and foremost, stand somewhere that feels natural, where both you and the players feel comfortable. Keep your camera visible so it's clear to everyone you are there to take pictures, and give everyone time to get used to the idea.
Eventually, the players' focus will shift away from you as they concentrate on the game.

Be patient
A chess game is a series of moments, and they can be small. Capturing a subtle exchange of expressions or a brief interaction with an observer takes time.
So, slow down. Watch the game and adopt its pace.

Be ready
The moment you've been patiently waiting for may appear and disappear in a fraction of a second. Prepare your aperture and shutter speed in advance. That way, when the right moment appears, you will be ready without losing time to make adjustments.

Be close
Use a 28-50mm lens. A 50mm will give you the opportunity to focus more on faces and to detach the subject from the background, especially if you use a large aperture (4.0 and lower). 35mm and 28mm lenses will place you at the center of the scene.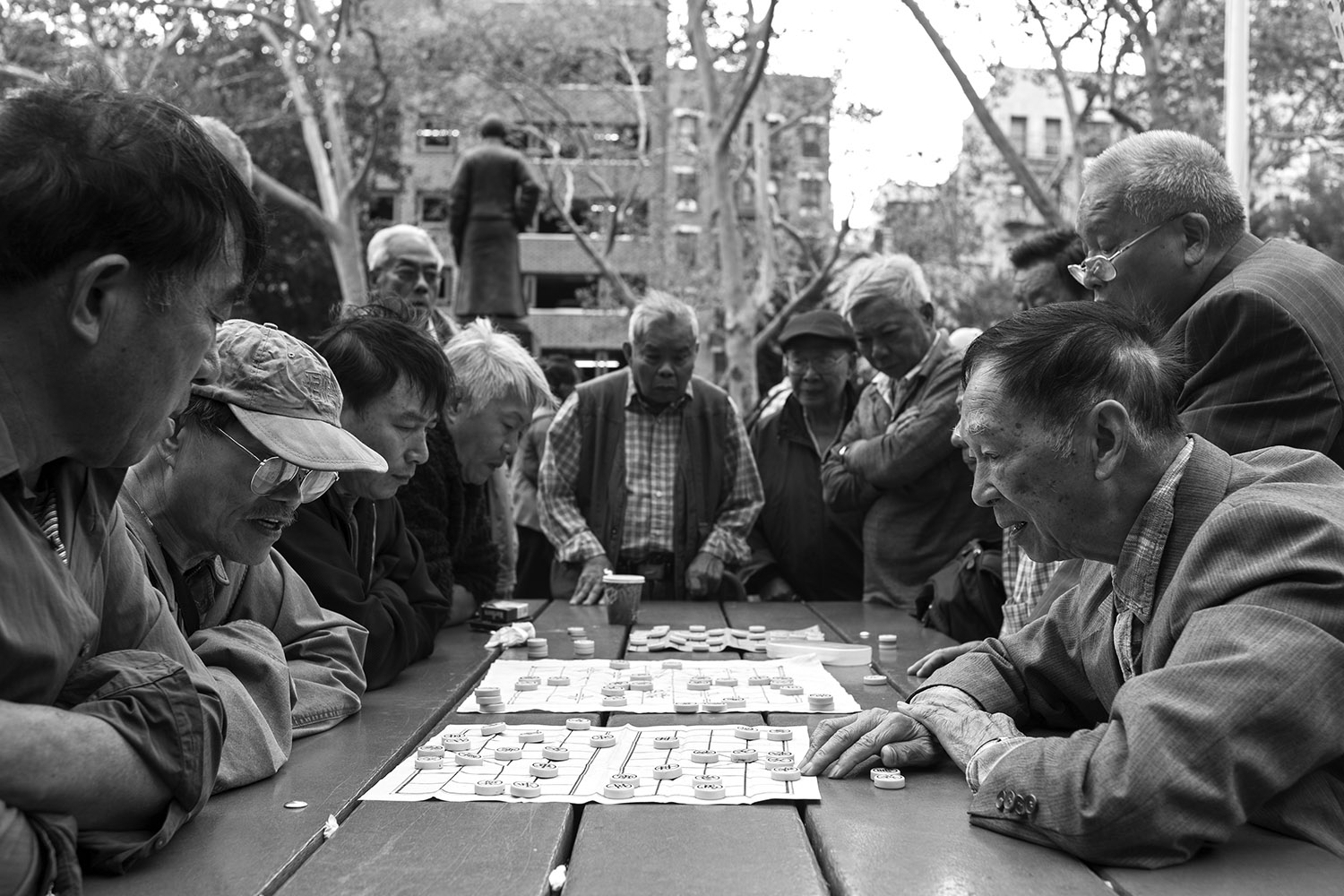 Columbus Park, New York City, September 2014
A wide angle lens such as 35mm and wider will place you at the heart of the scene
Be inconspicuous
If you stand in the same place long enough, you will become part of the scene. But because you are close, be mindful of your posture and movements.
While you wait for the perfect moment, do not point your camera at the players constantly. Keep your camera ready to go, but don't keep it on your eye.
When it's time to take the photo, be inconspicuous. Frame with your eye and when you are ready, raise your camera and take the shot. Digital cameras with swivel screens can help if you want to frame and be ready for a shot without having your camera at your eyes.

Pay attention to the other spectators
Some of the most expressive participants may be other observers gathered around the players. Look for opportunities to capture their interactions with the game.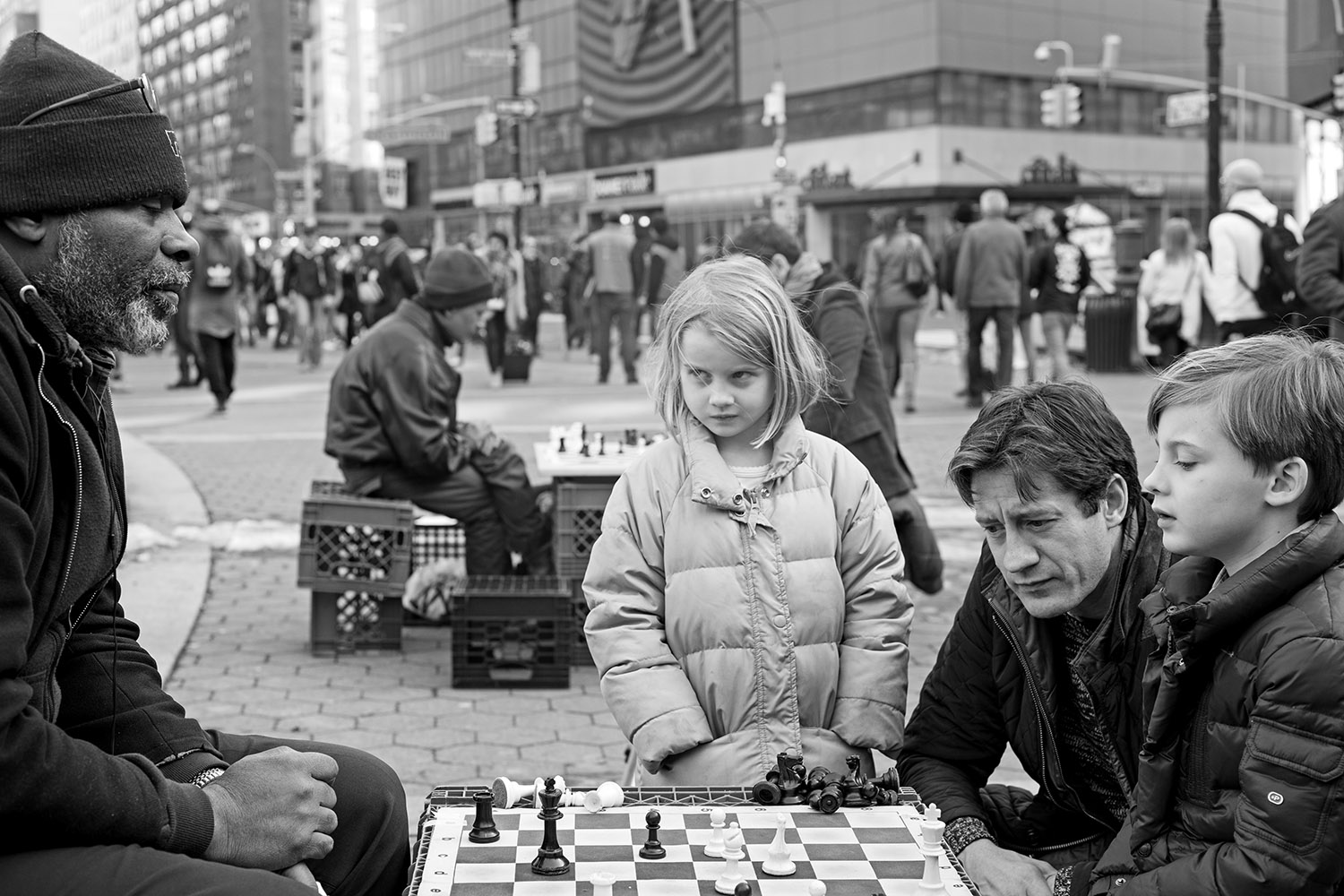 Union Square, New York City, February 2014
Pay attention to the eyes
Taking photos of street chess player is very similar to portraiture: it's all about the eyes. Players may try to hide their emotions from their opponents, but eyes rarely lie. Search for players' emotions in their eyes – and pay special attention to moments when the two players look at one another.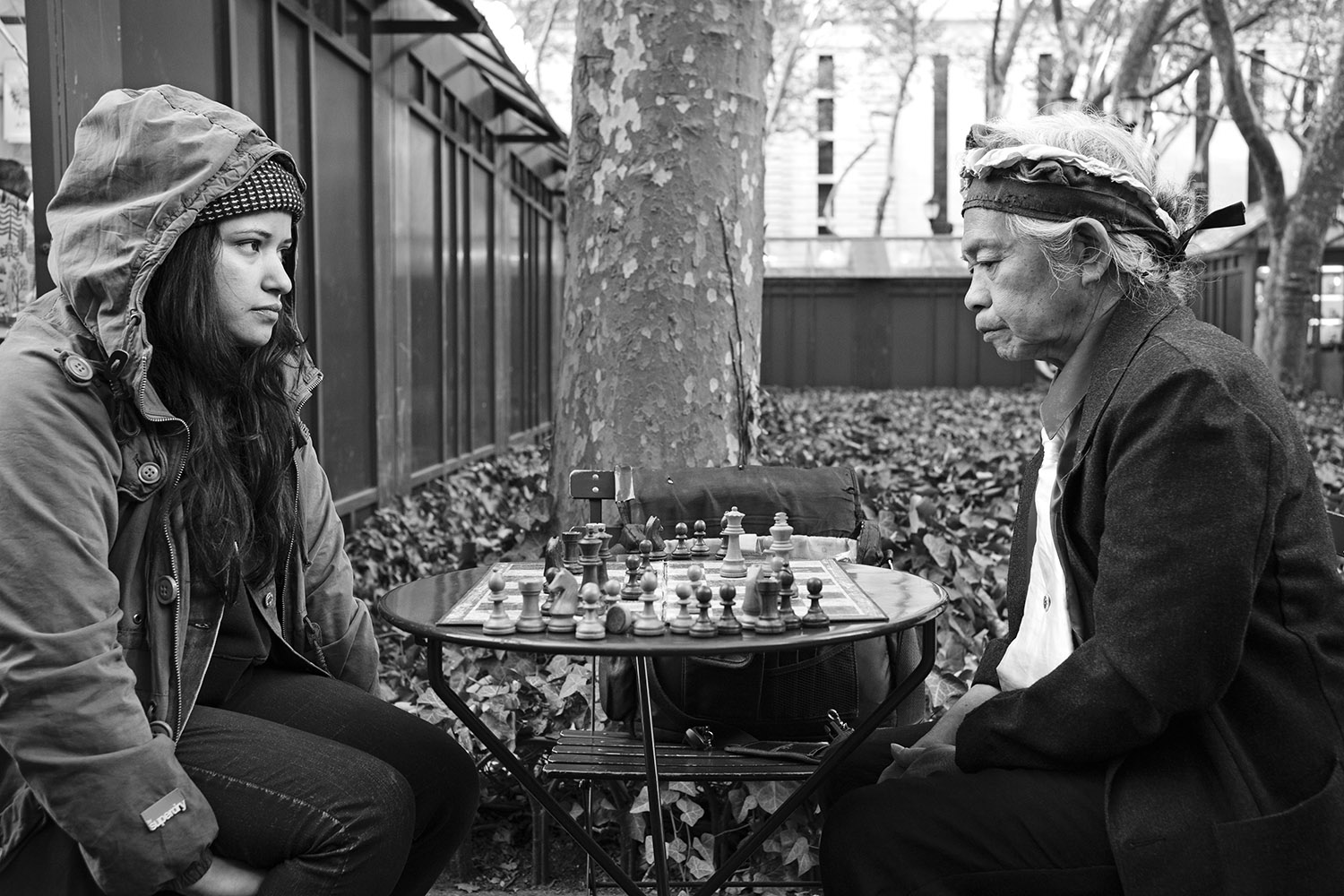 Bryant Park, New York City, November 2013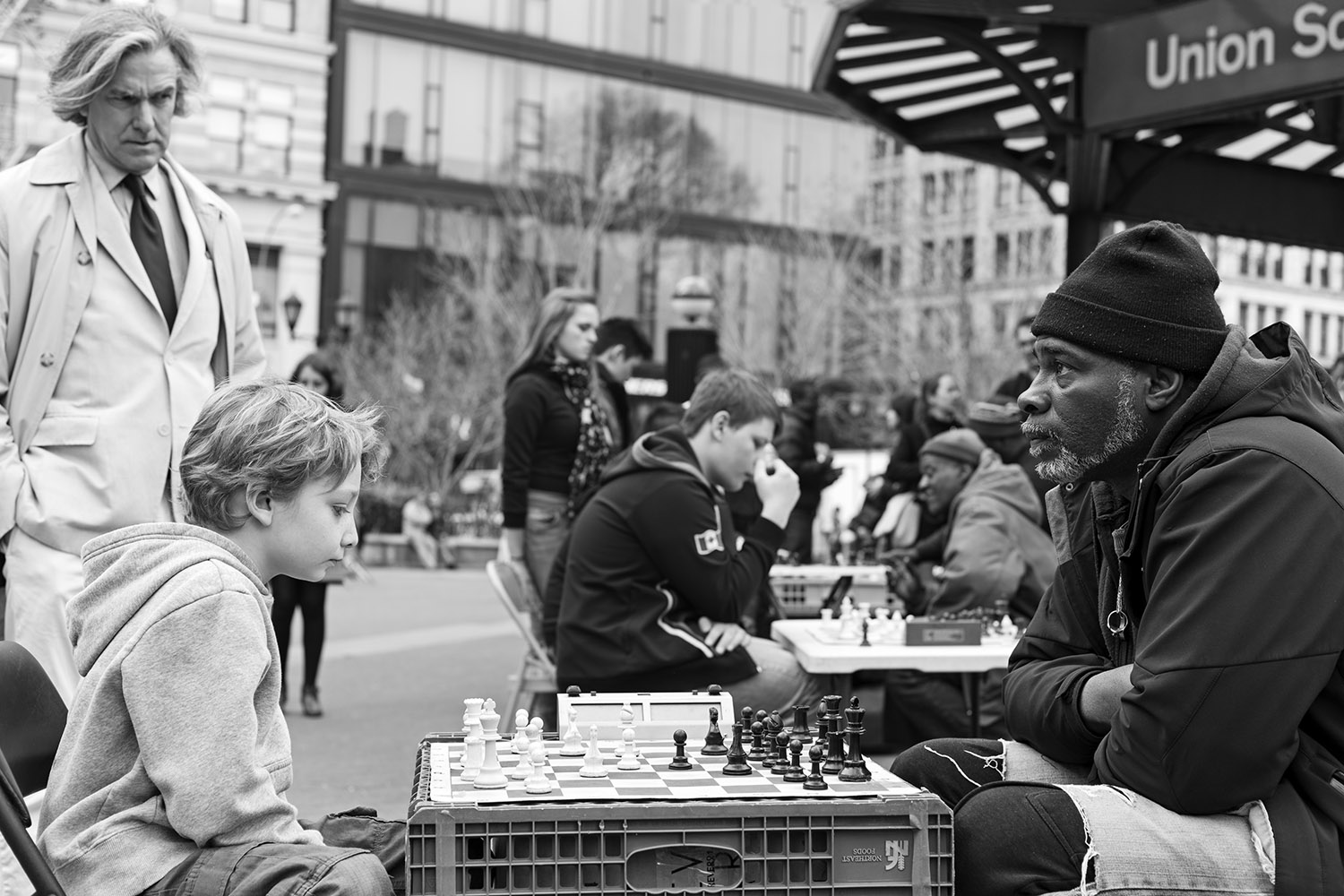 Union Square, New York City, March 2014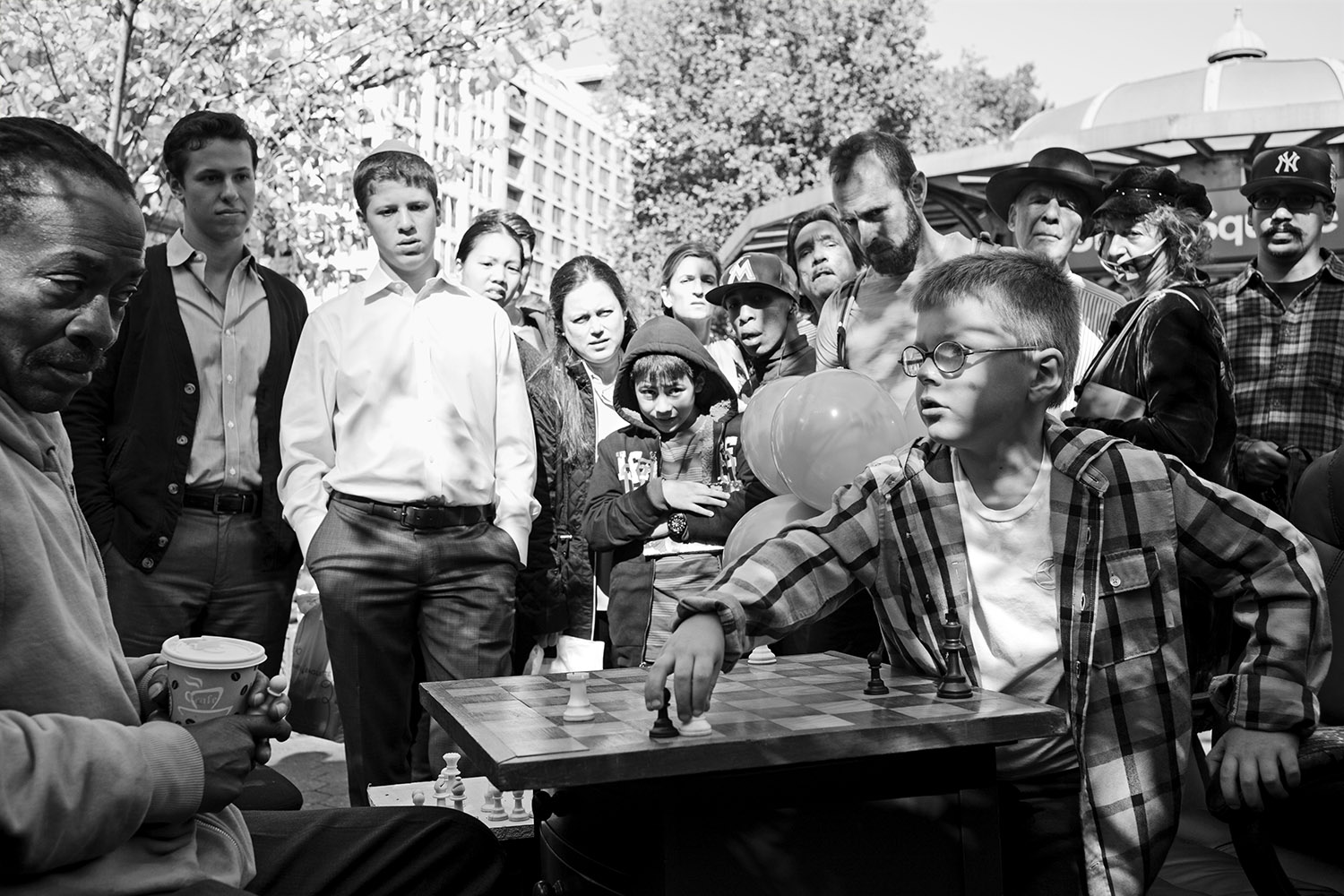 Union Square, New York City, November 2013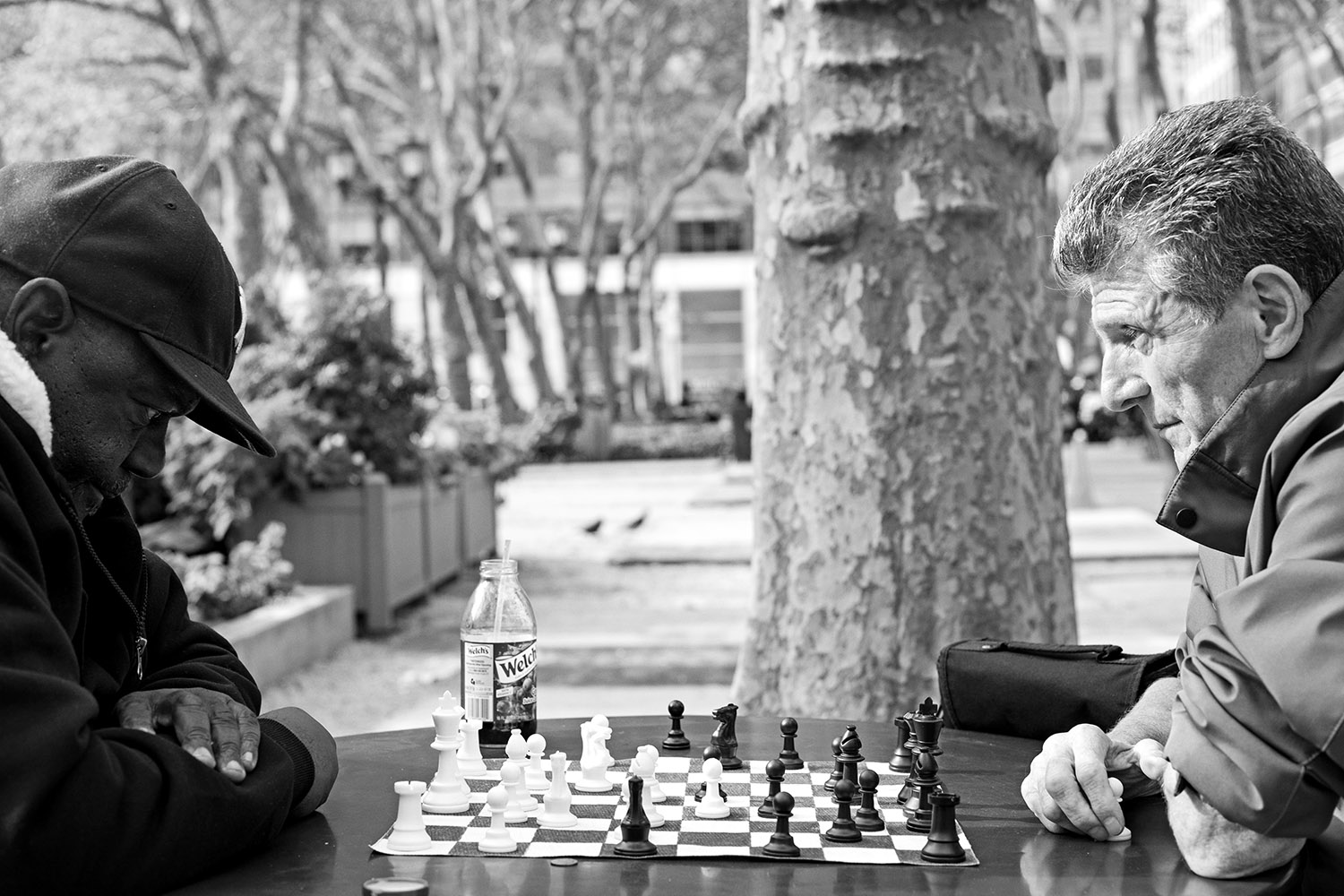 Bryant Park, New York City, October 2013
Pay attention to the hands
Chess players are obviously playing with their hands. I usually avoid taking photos when the players are moving pieces on the plate because I find it disrupting. But, there are other moments where the position of their hand will convey emotions: tension, fear, questions. Those are the moments to shoot.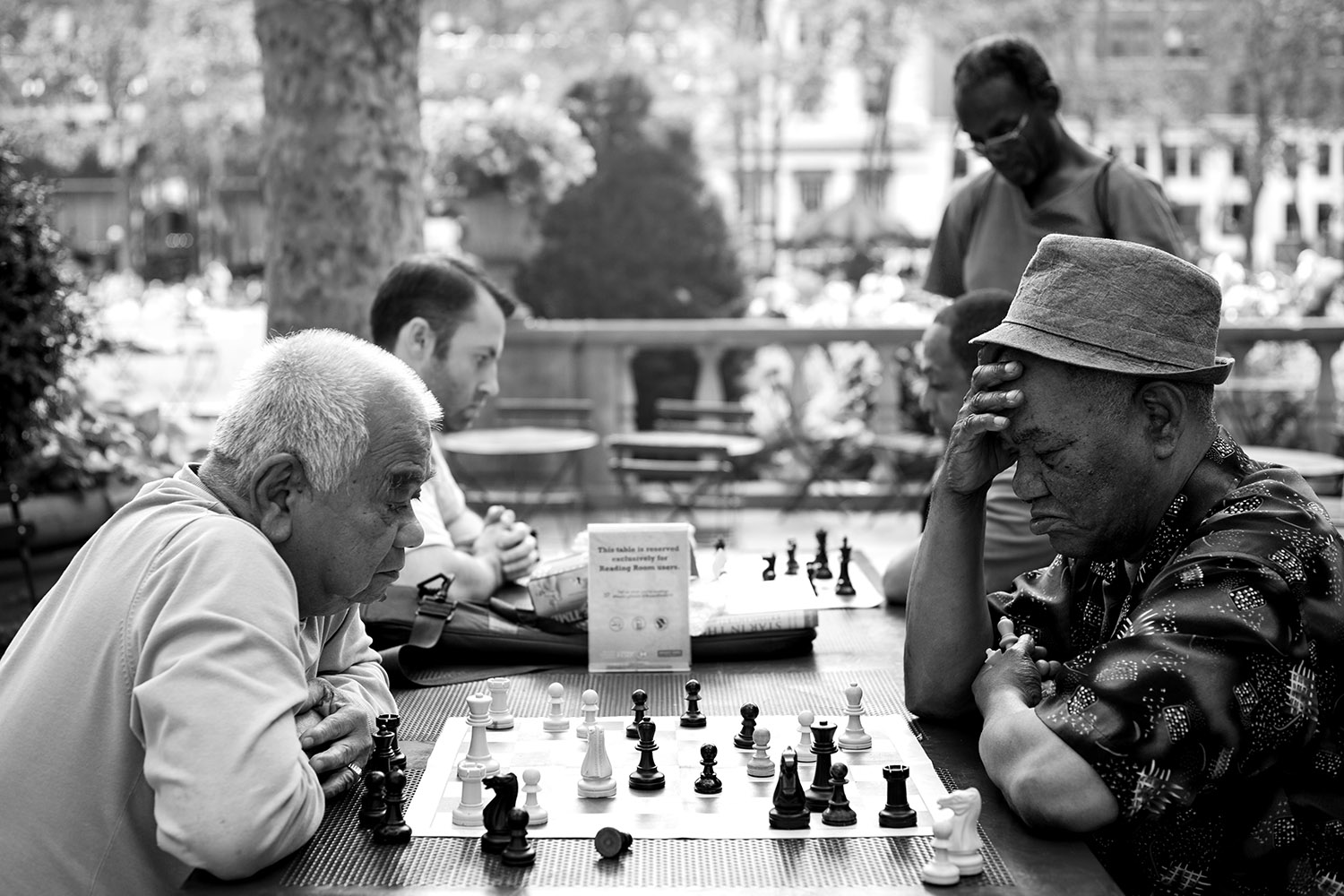 Bryant Park, New York City, August 2013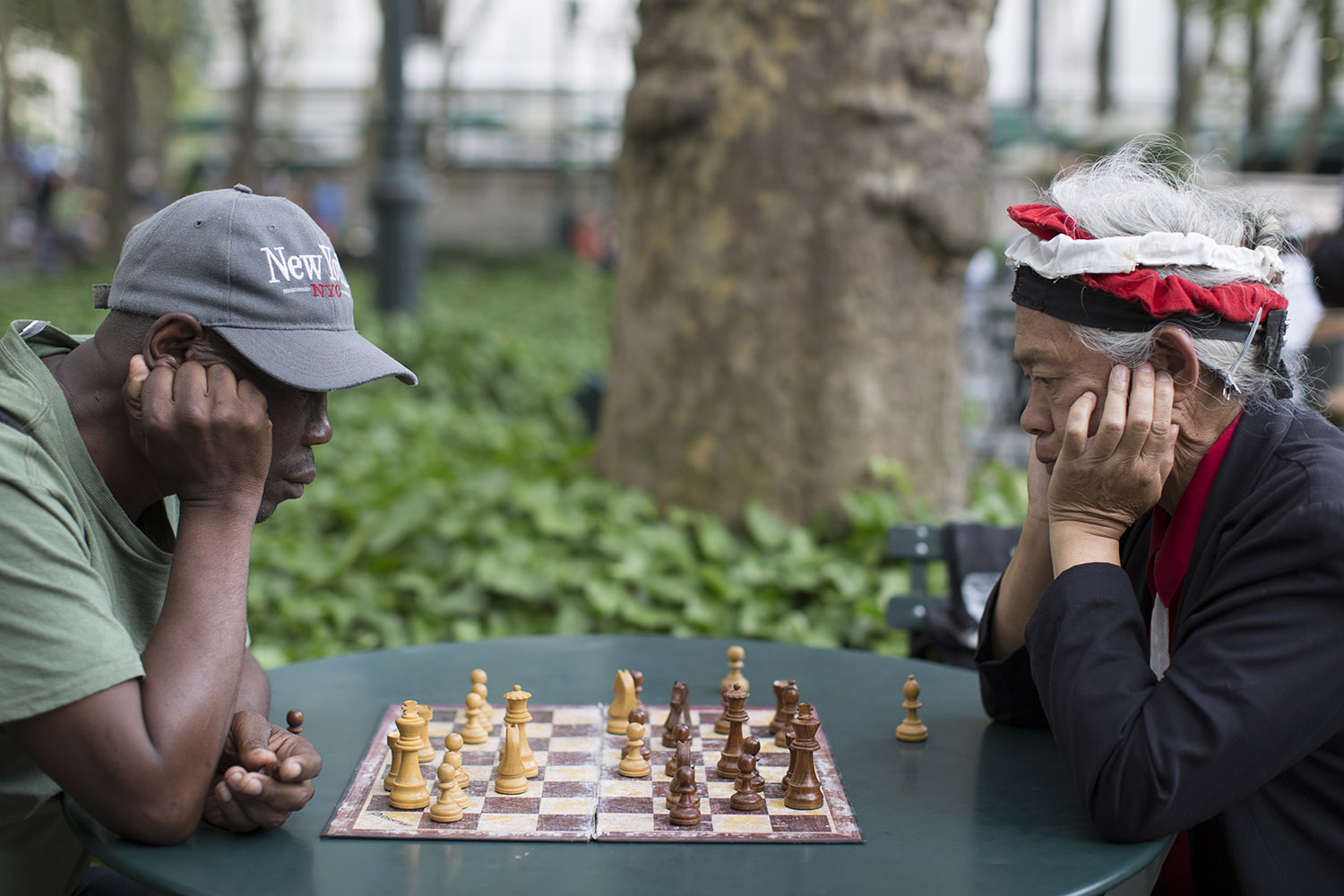 Bryant Park, New York City, July 2013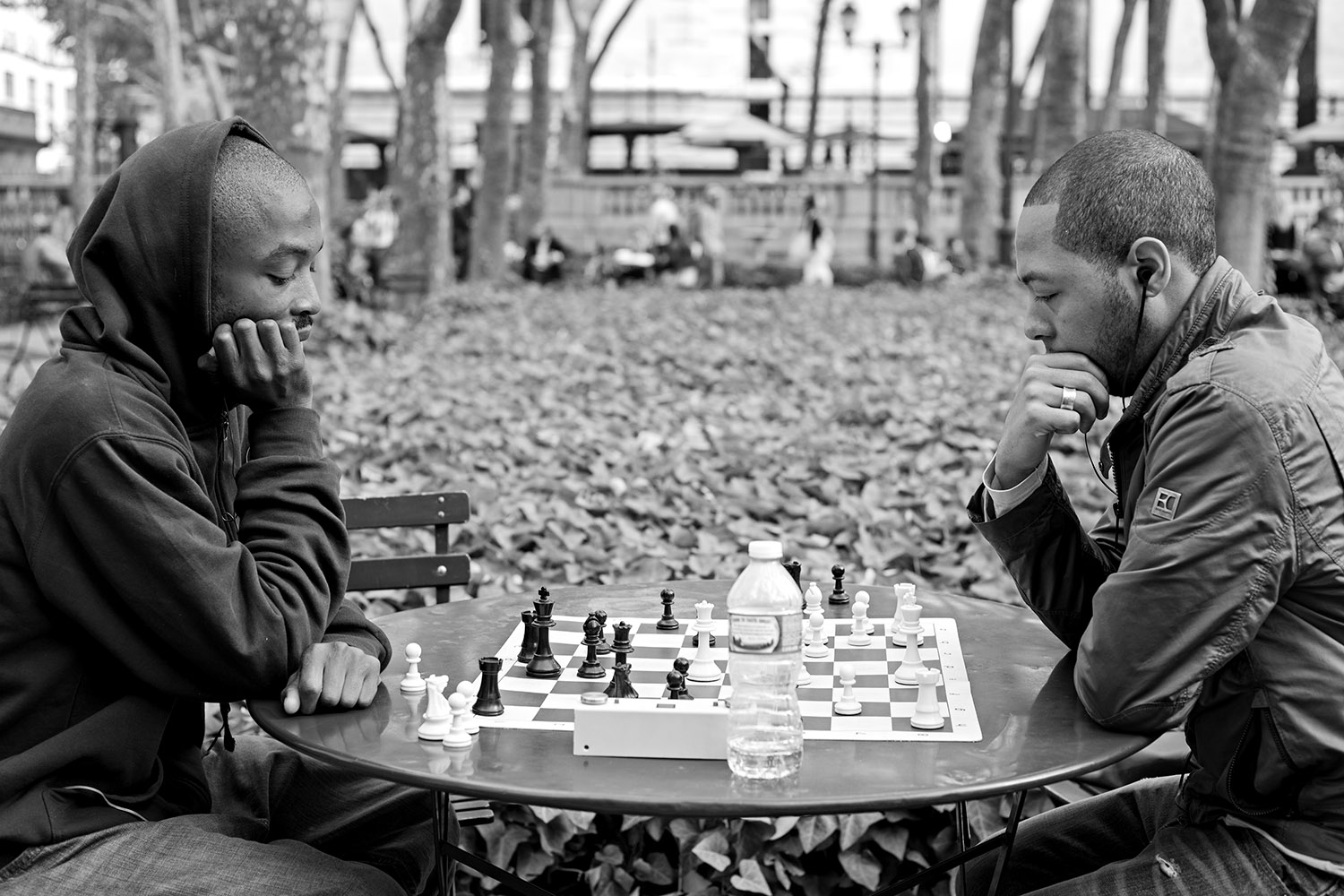 Bryant Park, New York City, September 2013
Look for moments of complicity
Playing chess can be a very intense, like a silent conversation. What makes street chess special is that many players start of not knowing one another. Capture moments when their newfound intimacy is exposed: when the quiet concentration gives way to conversation or laughter.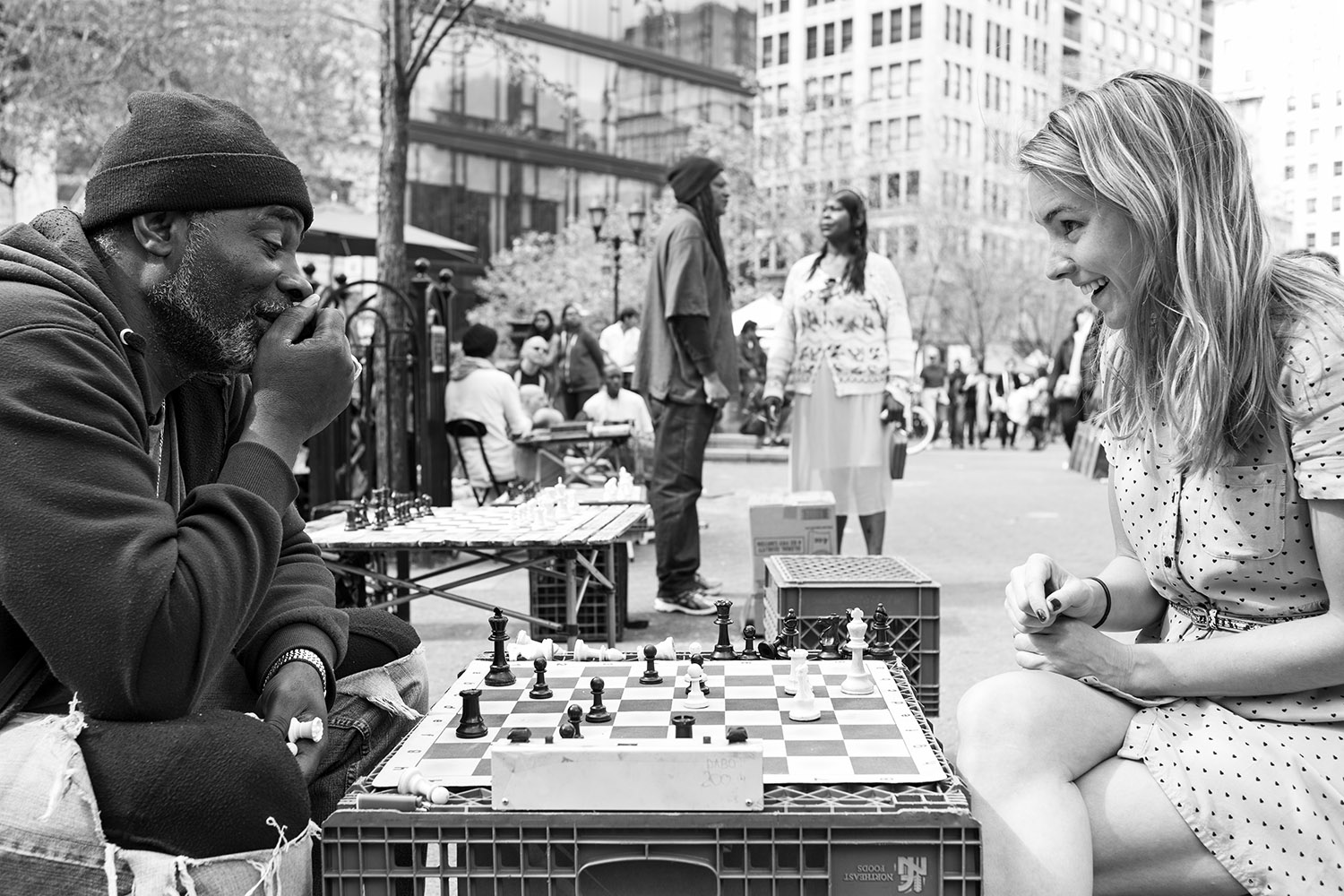 Union Square, New York City, May 2014
Where to find street chess players
New York
Union Square: every day of the year!
Columbus Park in China Town (Chinese chess): mostly on weekends all year long
Bryant Park: mostly during summer weekday lunch hour and weekends
Washington Square Park: every day of the year!
Paris
Hardin du Luxembourg: mostly on weekends all year long
Feel free also to provide additional places with your comments.
All photos in this article are from Damien Derouene.
These photographs may not be reproduced, distributed, modified or re-posted to other websites without the express written permission of the author.