This summer, we celebrate 50 years since Apollo 11's moon landing. When we imagine astronauts and scientists working away on our quest to understand the universe, we picture familiar places: the Johnson Space Center in Houston and the Kennedy Space Center in Cape Canaveral.
Through An American Story, we've come to know another. In the mid-1960s, NASA used a network of communication bases around the world to track spacecraft during various missions of the Gemini program. One of these stations was located in Kano, Nigeria.
Thanks to a diligent slide photographer, we can now bring you a glimpse of a day in the life on this base.

Discovering a historical piece
One afternoon, we were sorting slides for An American Story. Suddenly, we realized we were looking at something different from the thousands of family moments and vacations we had been seeing.
We recognized that we were looking at some place in Africa. Soon, we learned from a note on the border of a slide that the place was Kano, Nigeria.
It took a little more time and some research to realize that we had stumbled onto a fascinating piece of history.
Most of the slides showed snapshots of street life of Kano in the mid-1960s, but others drew our attention because they seemed to feature some sort of military base or communication station. The photographer's notes provided the most important clue. On many slides, he had written: "GT-3" and "GT-4."
A bit of research told us that GT-3 and GT-4 were shorthand for two NASA missions in Project Gemini, which aimed to develop space travel techniques that would enable the Apollo mission to land astronauts on the moon. In 1964 and 1965 two Gemini missions were flown without crews to test out systems and the heat shield. These were followed by ten flights with crews in 1965 and 1966.
GT-3, or "Gemini Titan 3," was the third Gemini mission and the first crewed mission. It was launched in March 1965. GT-4, "Gemini Titan 4," followed three months later in June 1965. It was the fourth Gemini mission and the first American spacewalk.
GT-3 and GT-4 were supported by the communications station we can now see thanks to the diligent record-keeping of a slide photographer.

The Slides
The photographer really was diligent. On nearly every photo, in light script, he wrote the city, country, month, and year. Most of the slides included additional—often very detailed—notes.
We used the photographer's labels to organize the slides and then began to scan them. Because the borders contained so much valuable information, we scanned each slide twice: once with just the image and once with the border as well.
What makes the series unique is their quality and the thoroughness of the documentation. Various subjects are covered—from street scenes and portraits to people at work on the base.
Below are a few samples of the slides from this collection. As you'll see, thanks to the photographer's notes, each tells a story. All commentary is exactly as written on the slides.
Lizards waiting for daily feeding
at Wolf auto rentals.
Kano, Nigeria
March 65
African Locust
Kano, Nigeria
June 65
Meat market (fly's are free!)
Old Market Place
Kano, Nigeria
December 65
Sleeping room for SSB radio personnel.
Kano, Nigeria
SSB Room GT-4
Kano, Nigeria
June 65
SSB HF Radio set why operator
during NASA's GT-3 two man orbit
Kano, Nigeria
March 65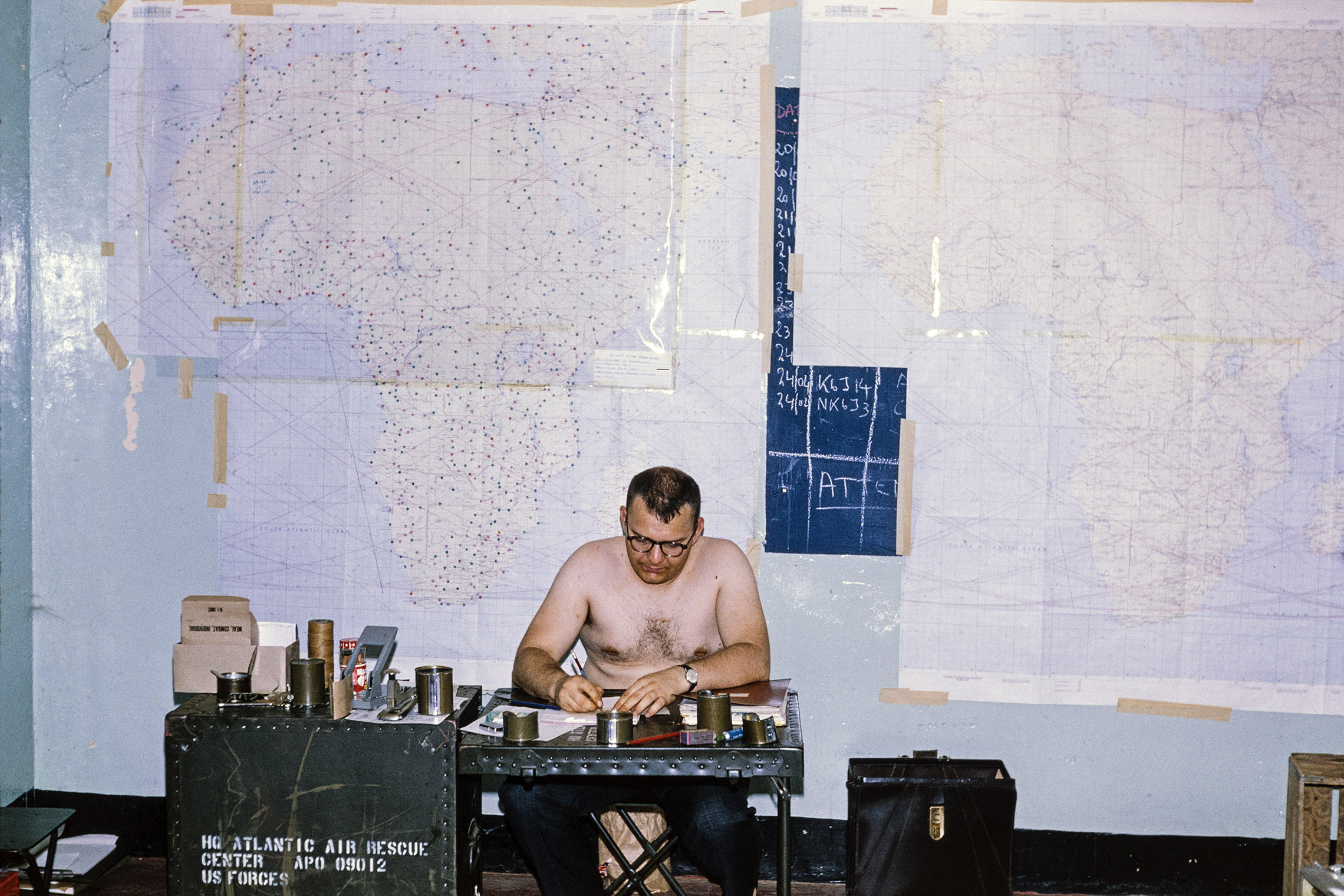 Sergeant Kiser at desk of sub RCC, old terminal building
Kano, Nigeria, June 65
Note the container from the U.S. Air Forces.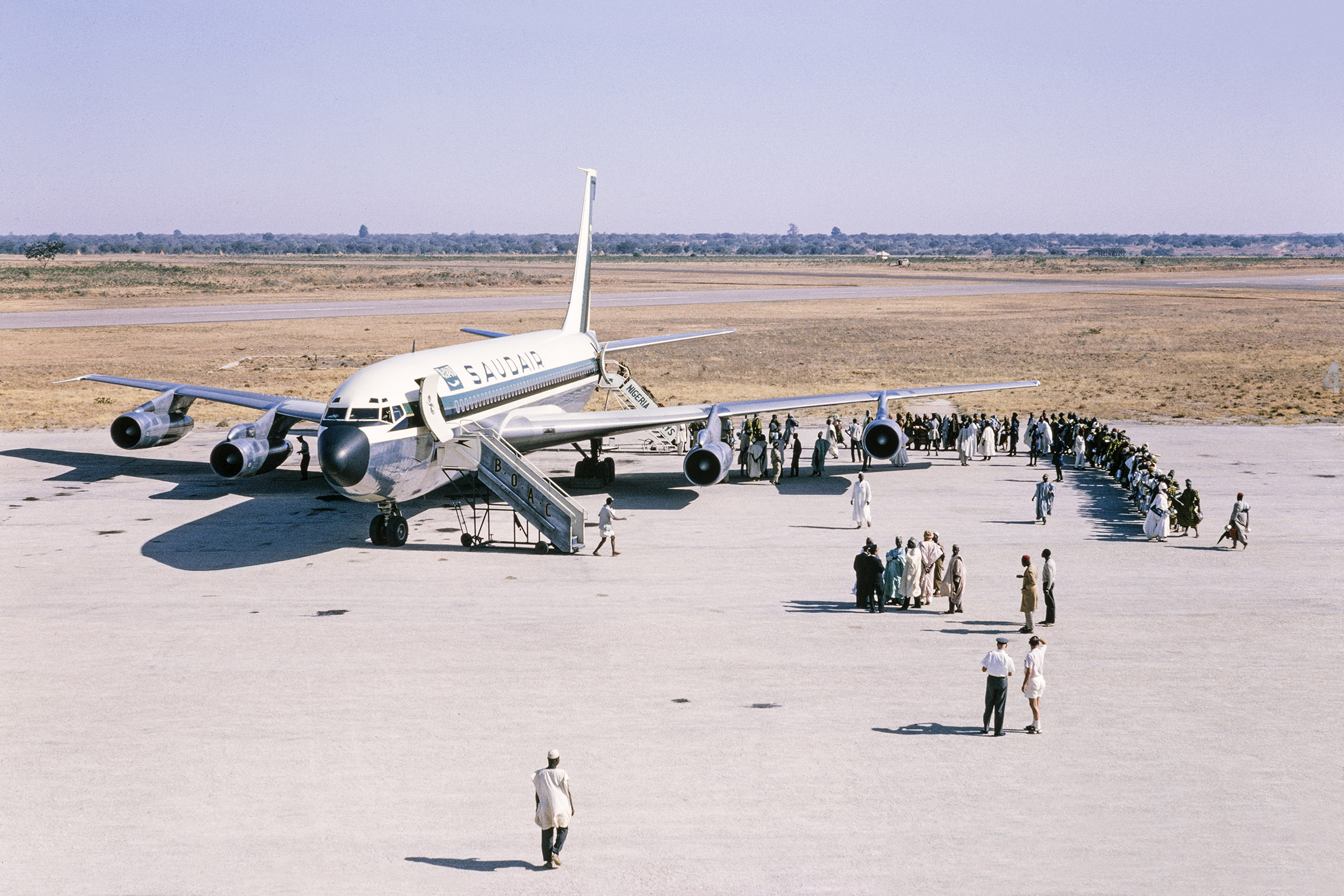 Pilgrims boarding a DC-8 Jet bound for Mecca
Kano Airport, Nigeria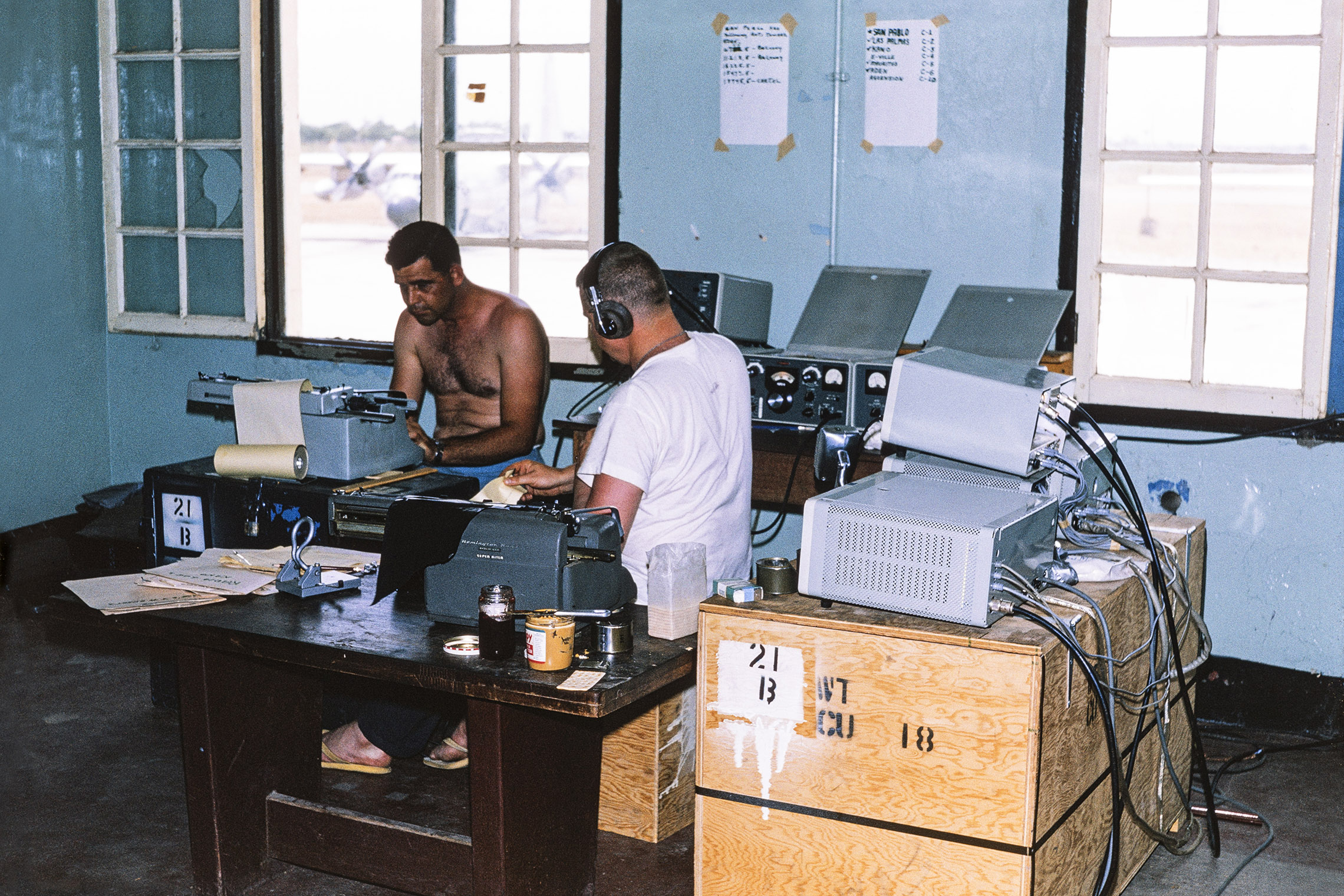 SSB Room GT-4
Kano, Nigeria, June 65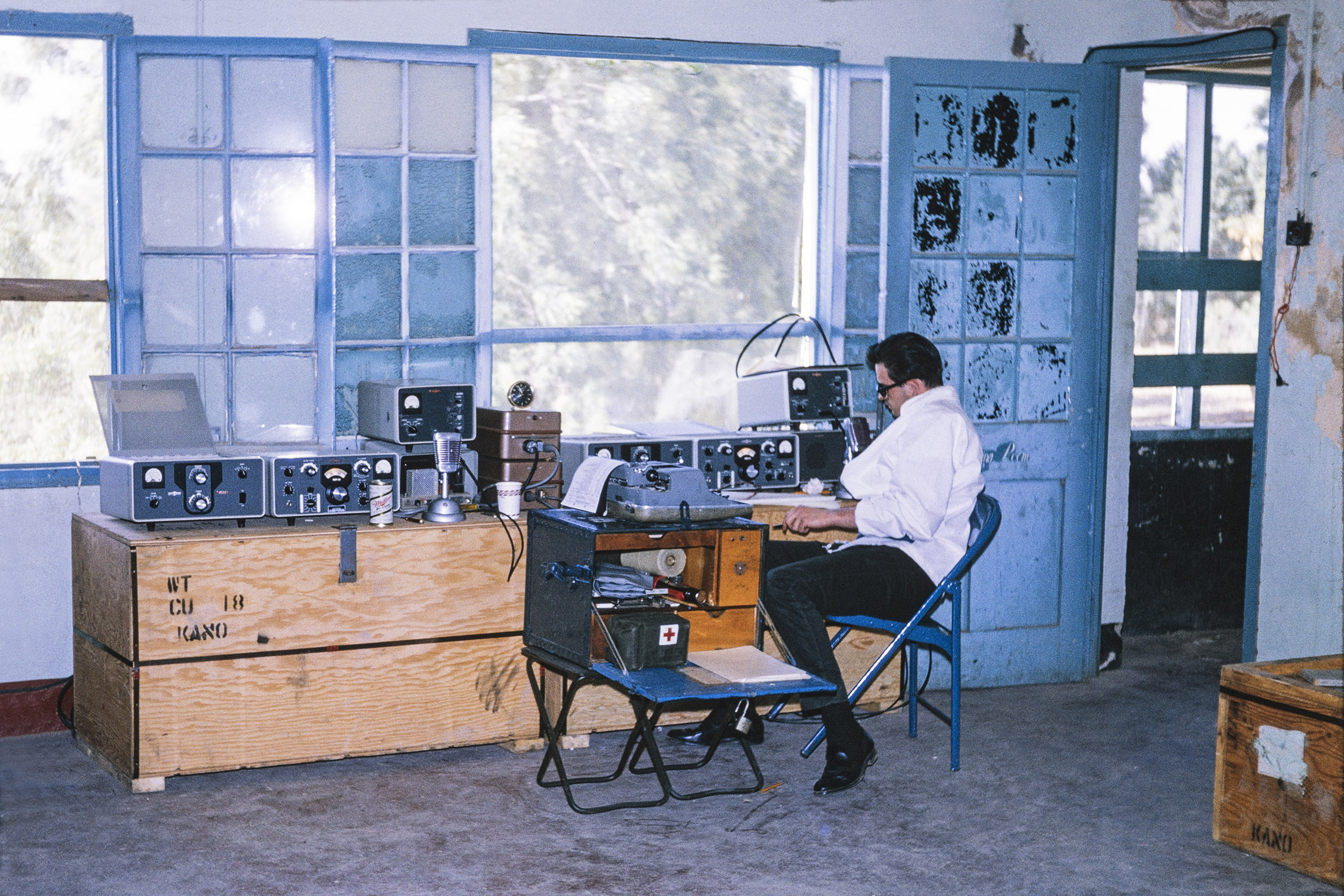 SSB HF Radio set why operator during NASA's GT-3 two man orbit
Kano, Nigeria, March 65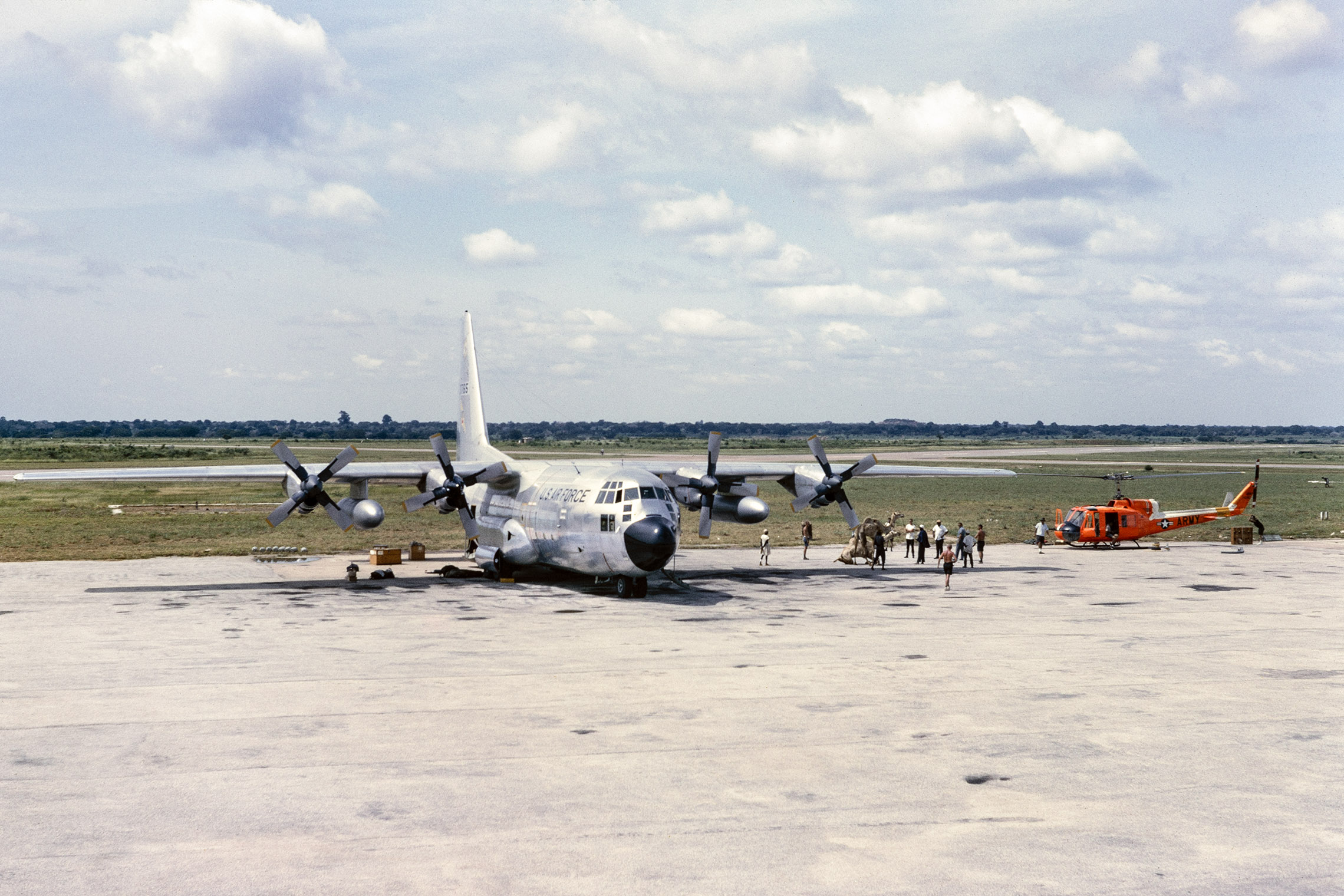 UH-1B and C-130 used for rescue standby at Kano, Nigeria during GT-5
Kano, Nigeria, August 65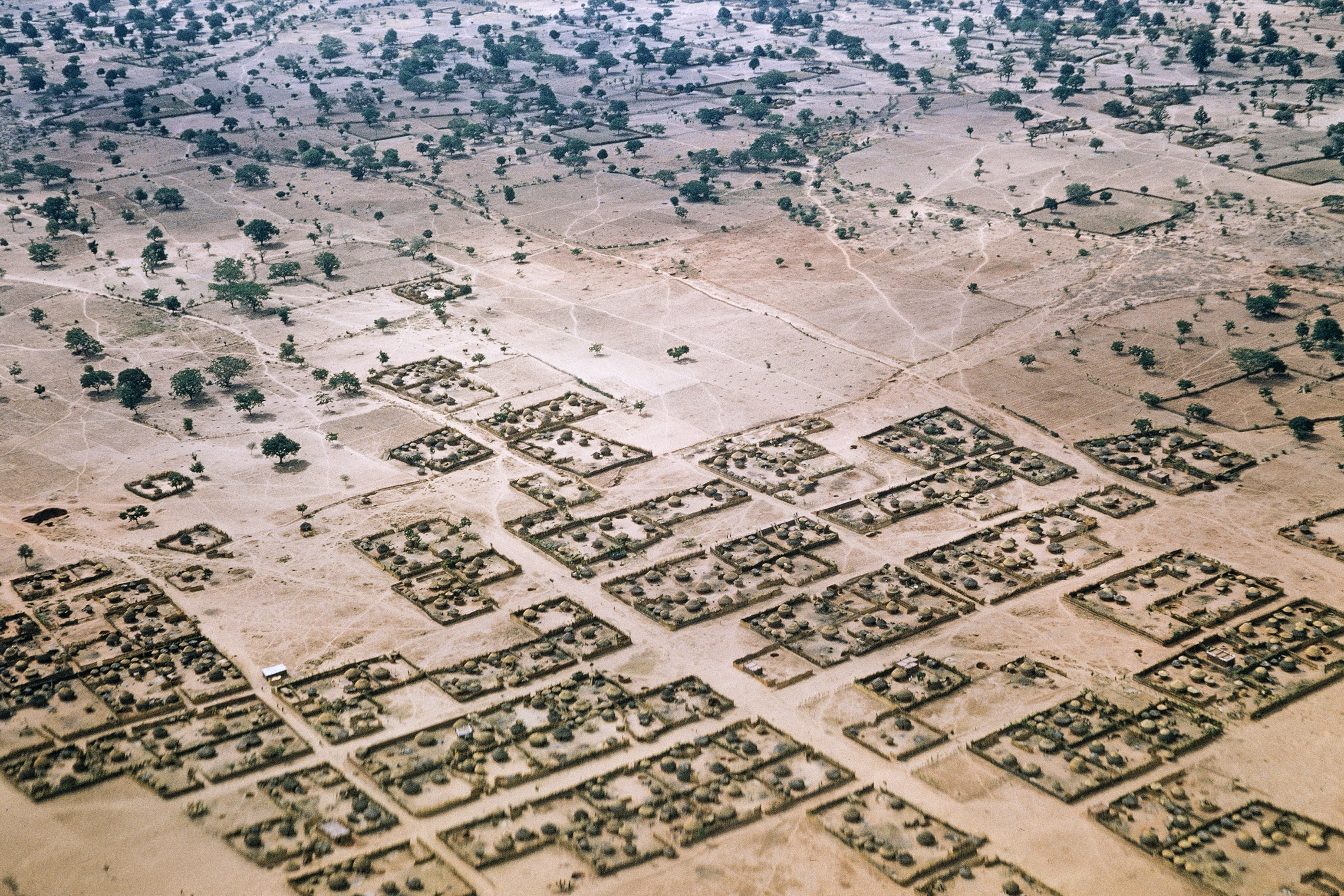 Native village in Nigeria not far from Kano
April 65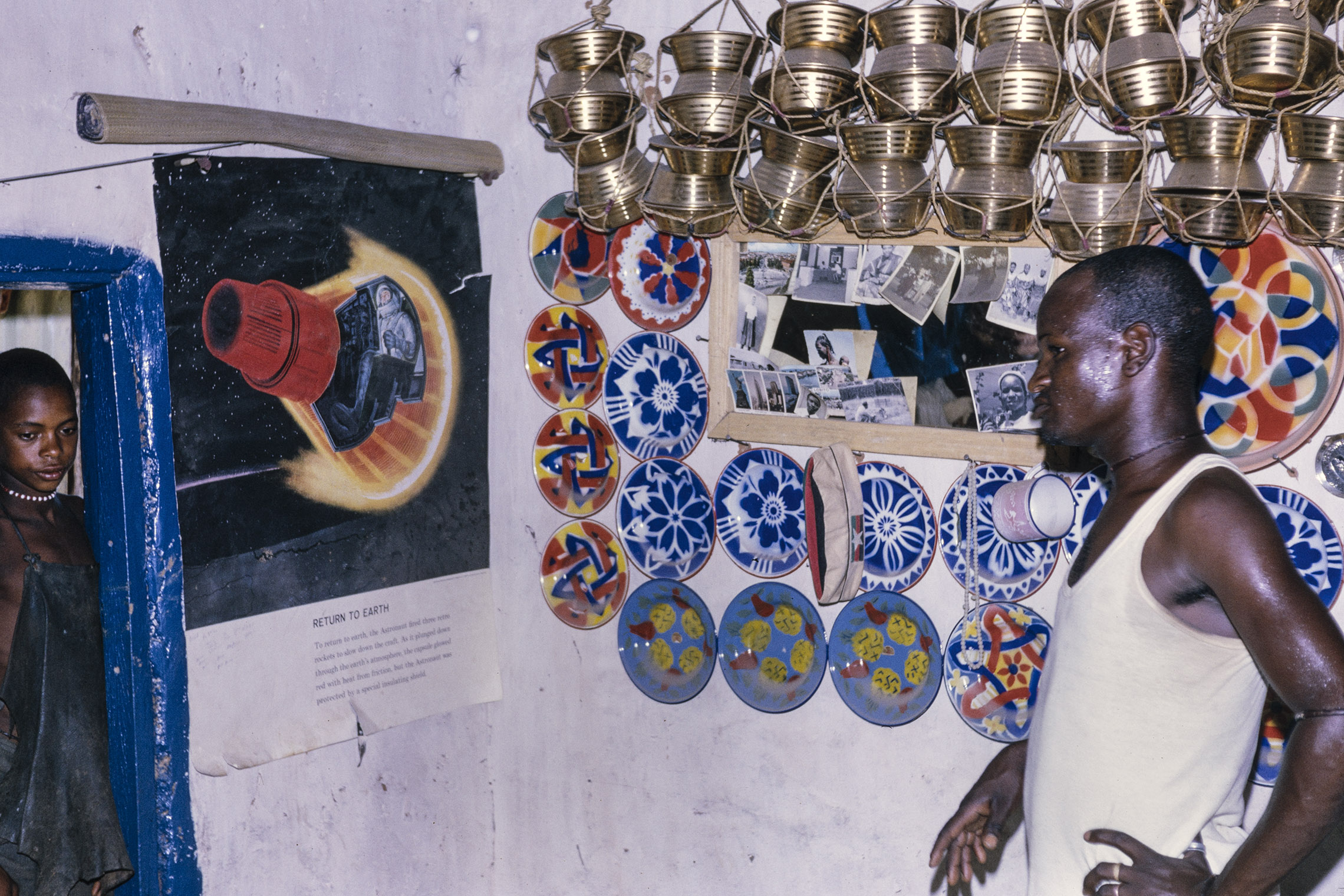 Inside hut of village near kano, Nigeria
June 65
Note the poster on the wall about the Gemini Project.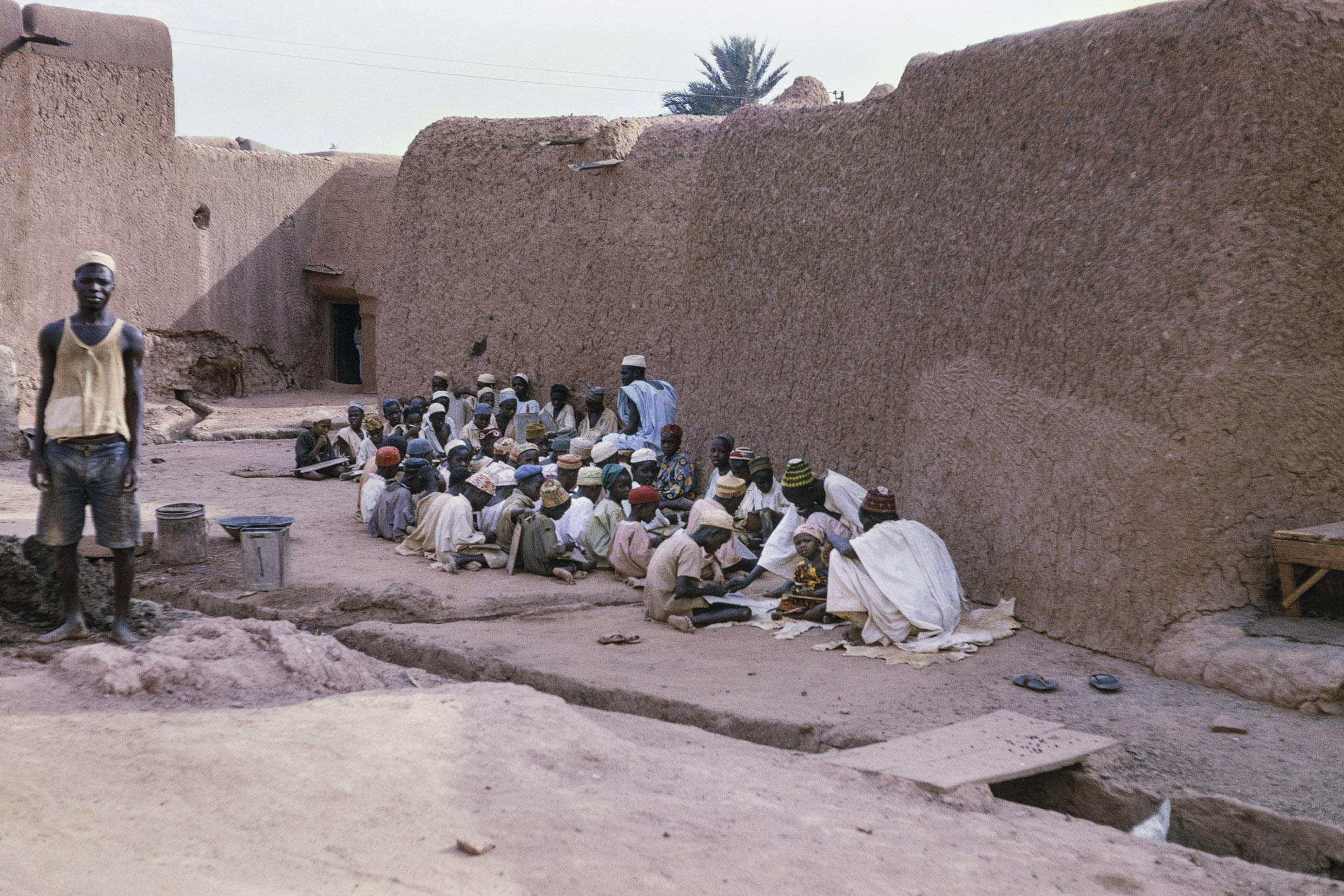 Kano Children being taught the Coran
May 65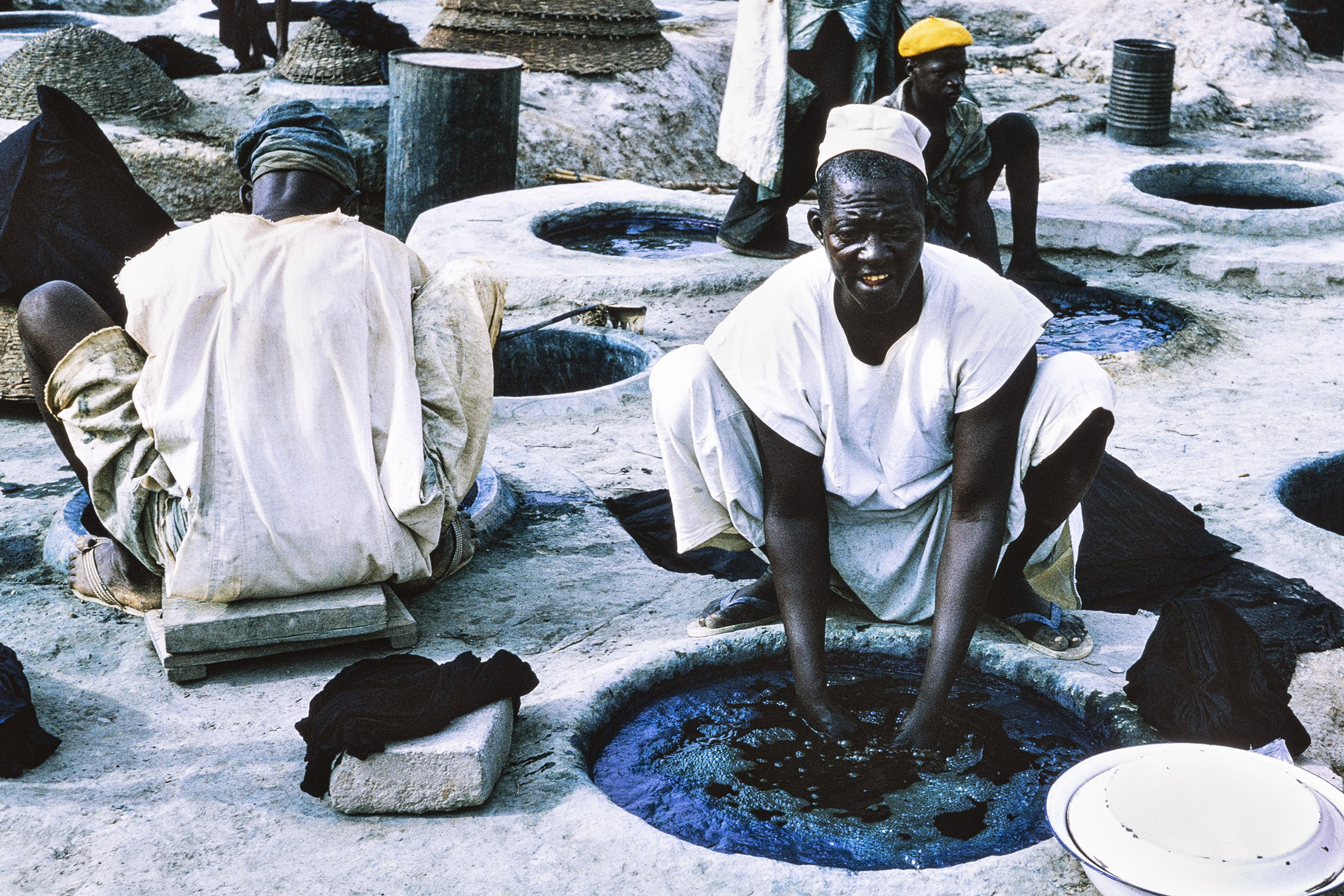 Dye Works, Kano, Nigeria
May 65
Native girl + baby in village near Kano, Nigeria
June 65
Two little girls
Kano, Nigeria
May 65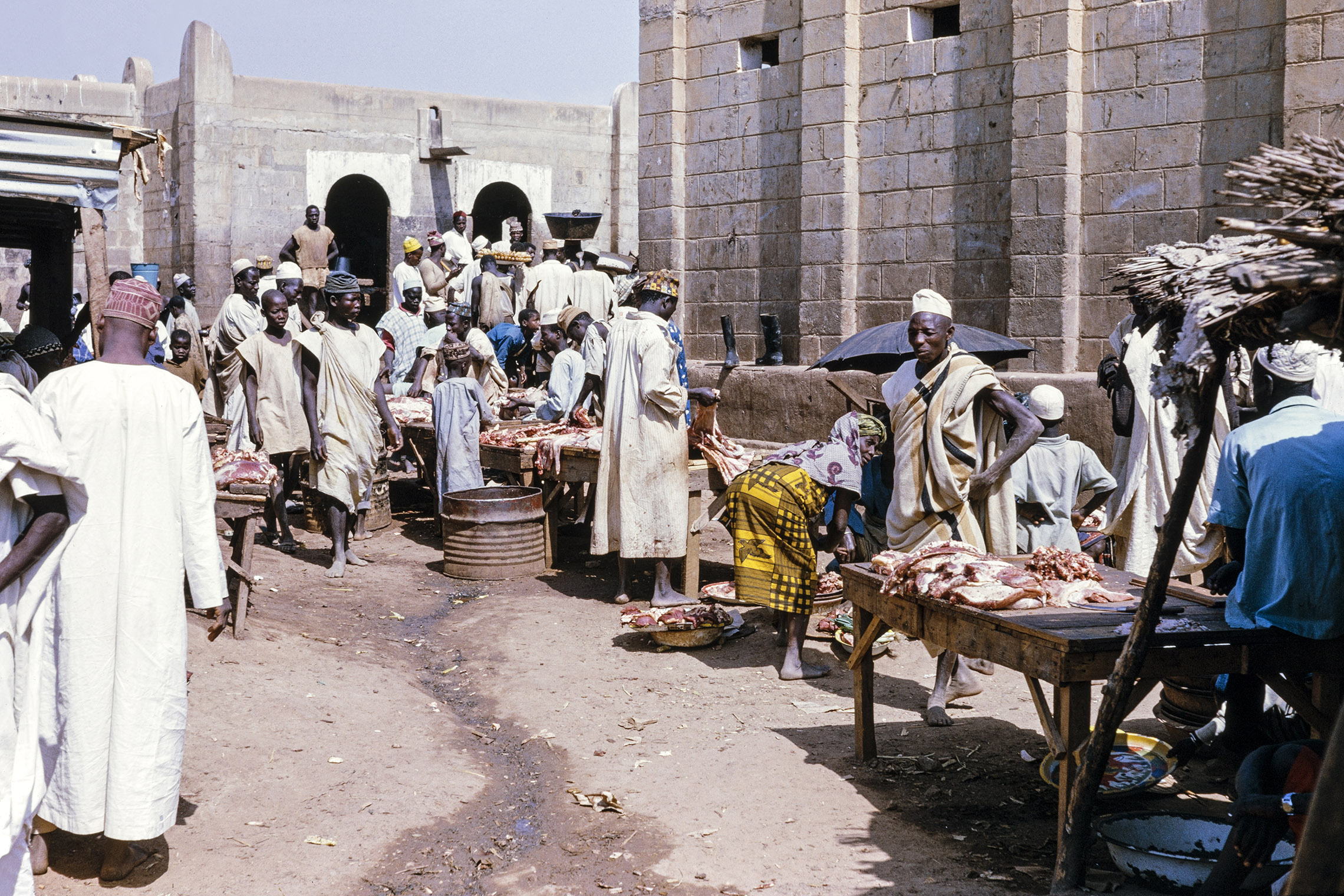 Meat Market, Old Market Place, Kano, Nigeria
December 65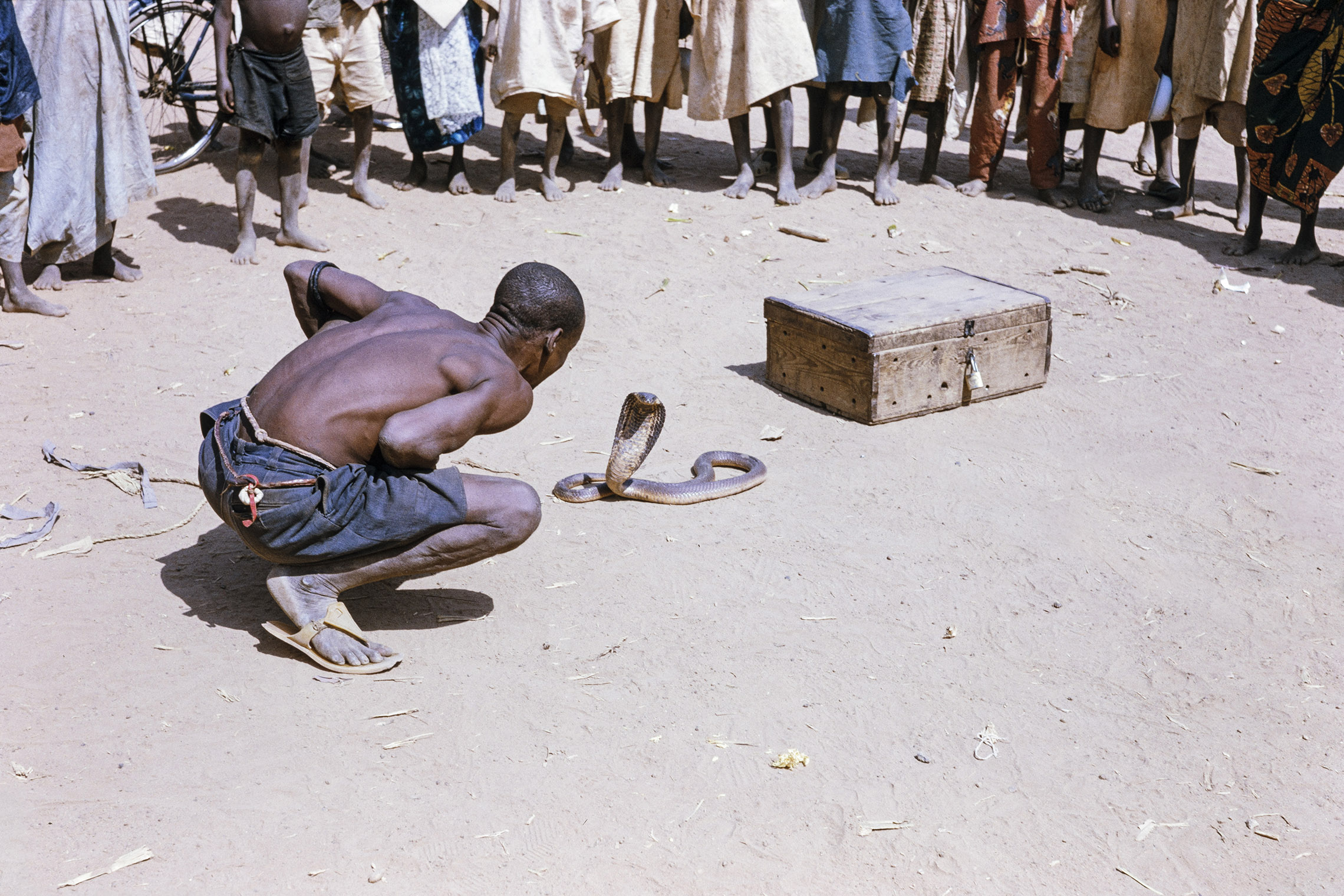 Snake Charmer, Old market place, Kano Nigeria
December 65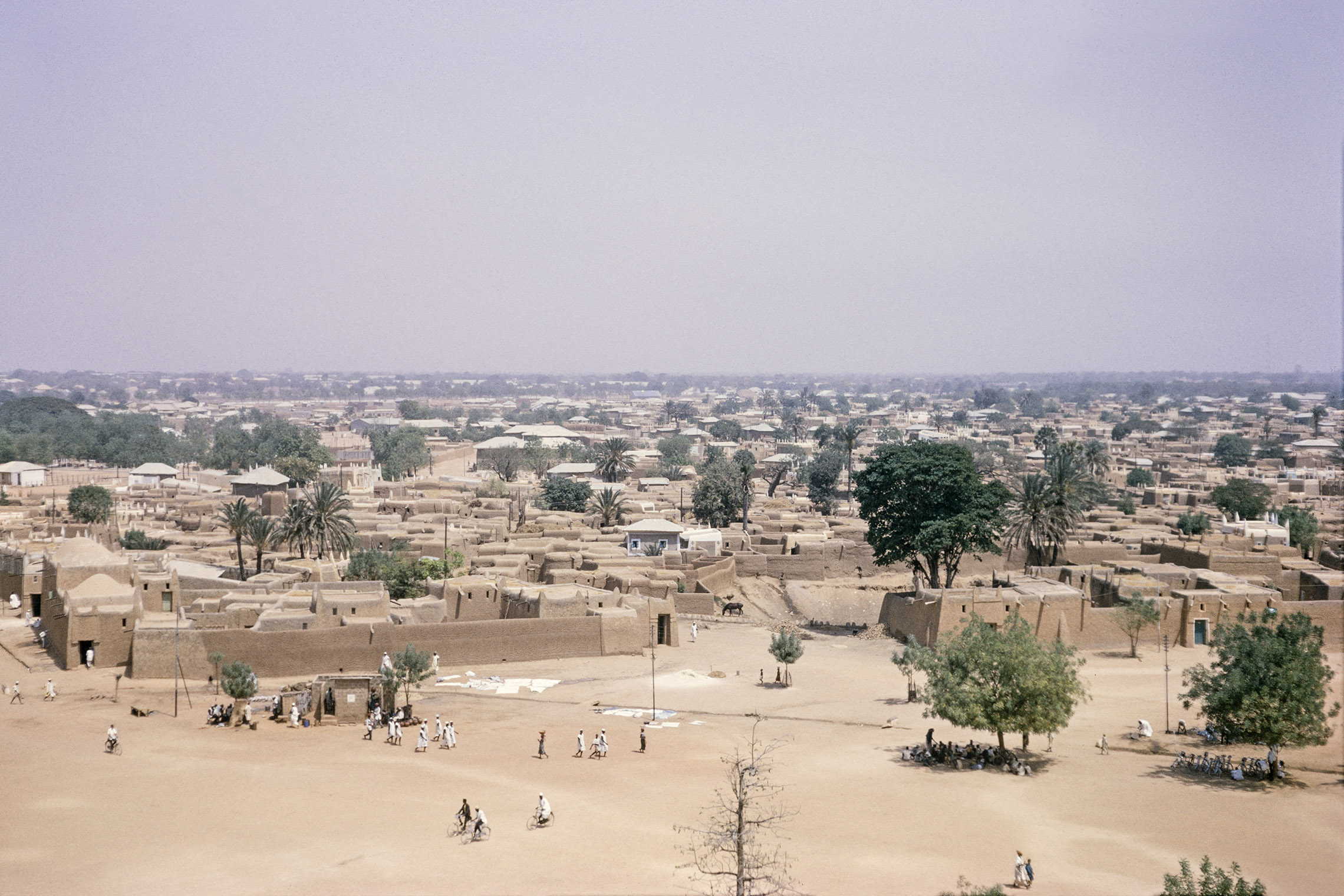 City of Kano taken from Mosque
March 65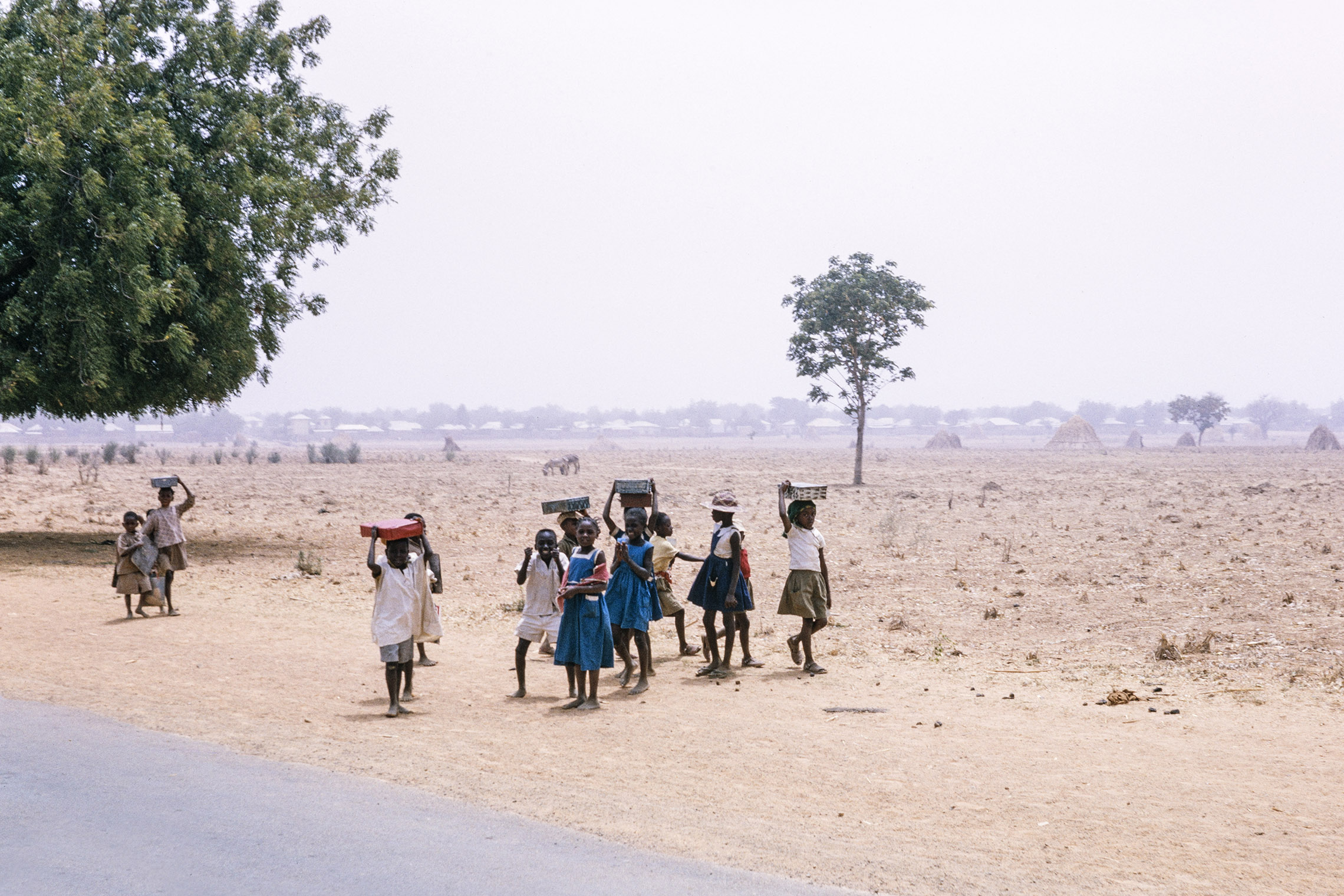 "Kids"
Kano, Nigeria, March 65
Keeping the Story Alive
We'd love to hear what you think about this collection! Please leave your comments below.
If you have any information about this photographer or his story, please contact us directly.